Episodes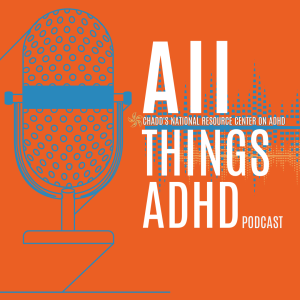 Thursday Mar 26, 2020
Thursday Mar 26, 2020
Podcast Transcript: https://chadd.org/podcasts/guidance-for-uncertain-times-how-chadd-is-supporting-the-adhd-community/    Summary: We know how difficult this time might be for you and your family, and we will face the COVID-19 crisis as a community. CHADD wants you to know you are not alone. We are here with support and information about keeping your family safe and meeting your ADHD needs. CEO Bob Cattoi shares what CHADD can do for you during this challenging time.   Robert Cattoi, CHADD Chief Executive Officer: Bob Cattoi has a background in promoting primary care and providing medical professionals with the tools needed to create healthier communities. He comes to CHADD from the American Board of Family Medicine, where he served as the Executive Director of the Pisacano Leadership Foundation and the Director of Communications. Prior to that, he was the Assistant Dean for Strategic Planning and Program Development for Texas Tech University's Health Sciences Center School of Medicine.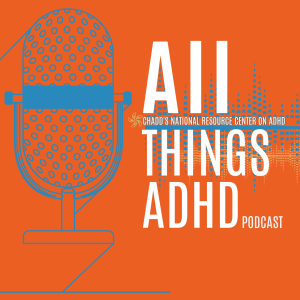 Thursday Mar 26, 2020
Thursday Mar 26, 2020
Podcast Transcript: https://chadd.org/podcasts/guidance-for-uncertain-times-tips-for-creating-adhd-friendly-home-environment/   Summary: During this uncertain period, families, parents, and children have struggled with creating an ADHD friendly home. There are added stressors with online education and working from home. Interventions and treatment for ADHD may have become unclear. Families may have more conflict now that everyone is at home and having a hard time coping. Students are struggling with finding ways to stay focused and learn while at home. This also includes the parents' struggle of finding ways to best help their children.  Dr. Margaret Sibley discusses different strategies for online learning, along with strategies to maintain an ADHD friendly home. She provides information on ADHD medication and options for interventions and services during this time, and helps parents understand what their children are going through and how to be an outlet of support.   Margaret H. Sibley, PhD: Dr. Margaret Sibley is an Associate Professor of Psychiatry & Behavioral Sciences at the University of Washington School of Medicine and Seattle Children's Research Institute. Dr. Sibley's work focuses on the diagnosis and treatment of ADHD in adolescents and young adults. She has authored or co-authored over 80 scientific papers on ADHD and published a book with Guilford Press on treating executive functioning and motivation deficits in teens. She is a member of the CHADD professional advisory board.