Episodes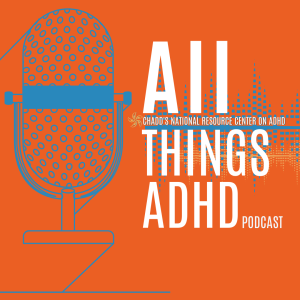 Thursday Oct 28, 2021
Thursday Oct 28, 2021
Please let us know what you think of this podcast by taking a short, anonymous survey.  We value your feedback and will use it to create podcasts that are helpful to you.   Are you a parent of a teen or a teenager who's transitioning into adulthood? Well, this episode of the All Things ADHD podcast is for you. We gave our mic over to guest host Liam Tolbert, a teenager who is managing ADHD and learning to be independent. Many teens with ADHD may find emerging into adulthood stressful, frustrating, and challenging since most of their life has been supervised by a parent, teacher, or caregiver. Tolbert speaks with Dr. Eugene Arnold, CHADD's resident expert, about ADHD healthcare responsibilities young adults need to know, understanding and managing symptoms to help individuals succeed, and overcoming barriers to accessing good healthcare.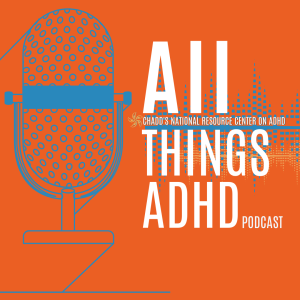 Thursday Oct 14, 2021
Thursday Oct 14, 2021
Descripción:Los padres latinos muchas veces están navegando por aguas difíciles cuando se trata de proporcionar apoyo a sus hijos que tienen TDAH. Muchos padres tienen conexiones fuertes con su cultura y relaciones con amigos y familiares que no están familiarizados con el diagnóstico de TDAH. Las escuelas muchas veces luchan con su diferenciación entre lo que es el TDAH y un problema cultural, disciplinario, familiar o problemas de hablar y el lenguaje. Aumentar la comprensión y el empoderamiento de los padres es un primer paso fundamental para ayudar a los jóvenes latinos con TDAH a prosperar en el hogar y la escuela.Objetivos:1. Identificar las suposiciones y entendimientos comunes que tienen los padres latinos sobre el TDAH.2. Describir las formas en que las escuelas malinterpretan los síntomas del TDAH en los jóvenes latinos.3. Nombrar formas clave en las que los padres y las escuelas pueden trabajar juntos para promover la comprensión, la empatía y la colaboración.    
Tuesday Oct 05, 2021
Tuesday Oct 05, 2021
Many women struggle at midlife with undiagnosed and untreated ADHD complicated by hormonal changes. They typically report feeling overwhelmed, inadequate, misunderstood, and distressed at a time in their lives when they often have the greatest demands on their time and energy. Women not diagnosed with ADHD until adulthood are more likely to suffer from depressive symptoms, anxiety, sleep disorders, eating disorders, substance use, and low self-esteem.   In this episode, Dr. Carol Robbins provides an understanding of the challenges women face in midlife with ADHD, coping strategies, and the importance of reaching out when help is needed.   Read more about women in midlife and ADHD.   Carol Ann Robbins, PhD, is a licensed clinical psychologist specializing in the diagnosis and treatment of ADHD across the lifespan. She is the clinical director of the Annapolis ADHD Center and works with Kathleen Nadeau, PhD, an internationally known expert on ADHD, at the Chesapeake ADHD Center of Maryland. Dr. Robbins is a seasoned speaker, presenter, and author, as well as past president of the Maryland Psychological Association and coordinator of the MPA Post-Doctoral Institute on ADHD Across the Lifespan. She has served as coordinator of the Anne Arundel County chapter of CHADD since 2002.